Chiropractic Testimonials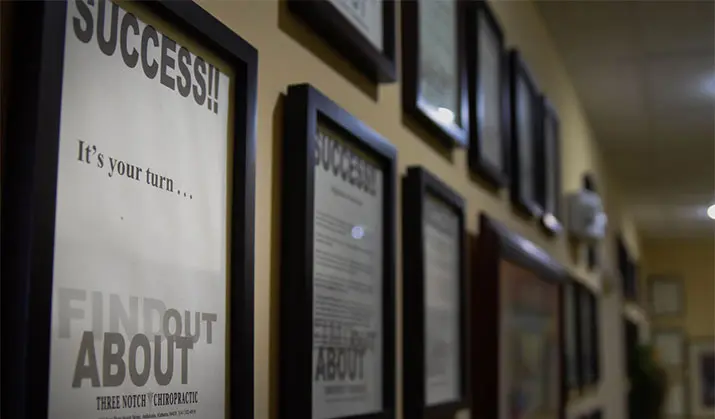 Shortly after "O." (baby) was born he was diagnosed with acid reflux.  He continually spit-up.  He also kept his head turned in one direction.  He was prescribed medicine for the treatment of reflux, but it was not very helpful.  We were talking with a friend, and she told us about taking her baby to Dr. Raley for the same condition.  We called and made the appointment with much hesitation.  After meeting with him and his staff, we were totally comfortable with treatment.  He explained everything in detail.  We would have never made the connection between the neck and head position to the spitting up and reflux condition without his knowledge and experience.
After a full exam and studying "O."'s history and scans, Dr. Raley gave "O." one adjustment, and he did not even flinch!  To our amazement he went 5 days with no spitting-up.  We did have to continue treatment with Dr. Raley on an "as needed" basis.  At his age, with every adjustment, his muscles were gaining strength to hold the neck in the correct position.  Over time, he has grown, and we only have to go periodically for small tweaks.
"O." is now 10 months old, and when he starts spitting-up, we laugh and say, "Well, it's time to go see Dr. Raley!"  We go, and almost like magic, the spitting-up disappears.  Thank you Three Notch Chiropractic and Dr. Raley for restoring our baby to good health!  What a difference an appointment can make!
Thank you!
Having acid reflux and projectile vomiting for 7 years when eating tomato based foods, I went through numerous testing at UAB and all of the tests showed no major damage from acid reflux, any blockages or hernias.
I was prescribed Omeprazole and Maalox for a "break-through" treatment and still had to stay away from food that we knew irritated me.
Since being under treatment at Three Notch Chiropractic, I have had food that would normally bring on an attack with acid reflux.  I have had minimal or no problems with these foods and have only required medication once.
Over all I feel better and rest better at night and can go out with my friends and eat pizza and sloppy joes again!  Having had these issues for several years, I am very happy with the relief!!
About twelve years ago I started having severe back pain that crippled me to the point that I couldn't walk without crutches nor was I able to sit for too long a period of time. The job I was on at the time sent me to the doctor who told me I had maybe a pulled muscle and a lot of inflammation in my lower back. So about for three months I was on muscle relaxers, pain pills, and pills for inflammation along with going to therapy three days a week. Not saying that their process didn't help because it did calm down the problem but it didn't fix the problem.
After my three month tour with this doctor, he asked how I was doing and that problem should be corrected by now. I told him that I felt better but I still felt that something just wasn't right in my lower back. He told me it was probably just soreness and it should go away in time. He then signed a release for me to go back to work with no restrictions.
Being a very athletic person though, I knew that something was still wrong regardless of what the doctor told me. I still wasn't able to do my workouts or get back to my way of life that I had been doing my entire life. I was always running and lifting weights, but now that was no longer a part of my daily routine. I made several attempts to get back to my workouts but each time I'd try, my lower back would flare up and the pain would be so severe that I just gave up. Having no faith in going back to that doctor, I just went on with my life and altered anything I was doing that would cause those flare ups from happening, it would still come each time being more severe and more painful. There have been a lot of mornings I'd wake up in tears because of the pain I was experiencing.
After I changed jobs, I decided to try another doctor and again I got more muscle relaxers, pain pills, and pills for inflammation but no therapy this time. This time I went through this process for about a month with limited relief from my pain and the doctor then sent me to a back specialist at Alabama Orthopedic in Montgomery, Alabama. I'm thinking to myself, "I'm going to get some help." Through the whole process before I made it to my back specialist, no doctor gave me a X-RAY or a MRI but that was the first thing he did when I got there. He actually looked at me in disbelief when I told him that no doctor, that I had been to, had given me one. He just couldn't believe it. After my results came back, he told me that I had a lot of inflammation and that two discs at the very bottom of my spine had a slight turn to them that may be causing my pain. Again muscle relaxers, pain pills, and pills for inflammation but this time I was sent to the pain center at Baptist Hospital in Montgomery, Alabama. There I received two injections within a month's time and for the next few months I didn't have the pain for a while but I had to stay constant on the medication and also I still wasn't able to return to doing workouts that I'd grown accustomed to my entire life. I knew once again the problem was calmed but not fixed.
Sure enough, my lower back pain returned and all I was told is that I would have this problem for the rest of my life. The specialist just recommended I stay on the medication and continue to go to the pain center for treatment. This plan of action was not making anything better for me though. It just continued to flare up and I continued to take the medicine.
A few weeks ago though, I had one of the worst back pain dramas I'd ever had these last long twelve years in dealing with this problem. I woke up on a Thursday morning in so much pain, I couldn't walk. I waited until the office opened at eight and went to see my doctor that morning at Georgiana Medical. I got two shots for pain and again muscle relaxers, pain pills, and pills for inflammation. The very next morning that Friday, I was back to the doctor to get a couple more shots because I had no relief at all. He also prescribed again, muscle relaxers, pain pills, and pills for inflammation but these were stronger than the ones I'd just gotten the day before. Saturday, the pain didn't slow at all. My first dose of medication, I was about 1800 mg just to try and slow the pain. Later on that evening, I was again taking another 1800mg of medication because the pain wouldn't really stop but the medicine helped me sleep. I know that's entirely too much medicine but my pain was so severe it's like I hadn't taken any medicine at all. I still wasn't able to walk and my pain was just as severe as it was before I went to the doctor. I decided to get my wife to take me to the new Primed that just opened in Greenville, Alabama. The doctor gave me two shots just for pain and again muscle relaxers, pain pills, and pills for inflammation. I live thirty minutes from Primed and by the time I got home I was throwing up everywhere because one of the shots was extremely strong.
My wife was scared so she called my sister who works in the lab at Georgiana Hospital and she told me all the medicine hasn't worked but she recommended that I go see Dr. Raley at Three Notch Chiropractic. My sister has fibromyalgia and after going to see Dr. Raley, her pain basically was little to none. I thought I had already been off work two weeks so I better give this a try. After my very first appointment with Dr. Raley and his staff, I told my sister that I like them.
One of the first things Dr. Raley said to me that no doctor or specialist had said in the twelve years I've been dealing with this is, "We don't do guess work here" and I immediately looked forward to coming back. My first adjustment, I came to see Dr. Raley I was still using crutches to get around that Monday but after my first adjustment I was able to walk without them and felt the first major relief in my lower back that I'd felt in twelve years of dealing with this problem. In fact, after being off for two weeks I went back to work the very next day and I've not missed a day off since for lower back pain. I know I still have a long way to go but I've never had a process and a plan laid out in this way to help make me better.
I would like to thank Dr. Raley for the success of my treatment plan to alleviate my back and foot pain from which I endured severe pain.
Since coming to him my back, neck, and feet are without pain. Also, I am experiencing a better sleep pattern on a regular basis. No more getting up, unable to walk with pain.
Once again, I would like to thank Dr. Raley for the success, and pain relief. I would like to encourage anyone who experiences frequent and devastating pain to seek the professional care from Dr. Raley.
Before beginning my treatment with Dr. Raley, I had consistent back and leg pain.  After the first visit with Dr. Raley, I felt a considerable difference in my back and leg pain.
Since I've come, my feet (skin) problems have greatly improved.  My legs feel better.  And my back pain has disappeared.
As I continue my treatment, not only do I no longer experience the pain, but also I feel better and rest better.
Surprisingly, I have also seen a great improvement in some skin problems that I have struggled with for years.  Since my treatment I have noticed a great healing.  I am so surprised and thankful.
What brought me to Three Notch Chiropractic was lower back pain.  The pain limited my ability to move and even my quality and ability to sleep
Before coming to TNC, my lower back had gone out and I went to the emergency room where they took x-rays and gave me muscle relaxers.  But the pain persisted for over a year.
In only a few treatments, provided by Dr. Raley, my overall quality of movement had improved.  The back pain is gone.  The adjustment of my neck and lower back provided immediate relief.  The follow-up visits helped to correct the minor pain that still existed.  Today, I am pain free for the first time over a year.
Now I can participate in daily activities without the pain that previously accompanied any movement.  I also get a better night sleep not having worry about moving in a particular way that would re-aggravate my lower back.
Thank you Dr. Raley and the staff of Three Notch Chiropractic for the relief from my lower back pain.
In the early 1990's, started to experience pain my neck.  When the pain got so back that I couldn't turn my head, I had an MRI and was diagnosed with a bulging disc.  The bulge was affecting the nerve in the middle of my neck.  I went to a chiropractor that used conventional techniques, but I was unable to get relief.  Finally, I had surgery to fuse the problem disc with a metal plate and a piece of bone chipped off my hip.  After recovery from the surgery, my neck problems seem to be gone… until 2010.
Then, I again started experiencing pain in my neck.  Sometimes, I'd wake up in the mornings with drawn, knotty, painful neck muscles.  I couldn't even look down long enough to peel a few potatoes without excruciating pain.  I noticed that I after visits from one of my friends, I would experience extreme neck pain the following days (she always sat in a chair to my left and I'd sometimes spend a couple of hours chatting with her with my head turned toward her).  Anyway, I had another MRI which again revealed bulging discs: one above and one below the fused disc
Pain medicine helped, but it hurt my stomach.  I was very distraught!  I was thinking, "I can't have my whole neck fused! I am going to have to live my life in pain."  The pain got so bad that I had to hold my chin to wash and dry my face or apply makeup.  Even light pressure on my face hurt SO badly.  I got very depressed.  My normally outgoing personality began to change.   I didn't want to go anywhere nor do anything—I was in too much pain!
My husband met Dr. Raley through his work and suggested I talk with him.  After hearing my story, Dr. Raley said he thought he could help me.  I was somewhat skeptical, especially since I had seen a chiropractor before I had my neck surgery.  However, once I understood the technique Dr. Raley uses is different, I decided to let him try to help me.  That was 2 months ago.  Today, I am my outgoing self again.  I can look up and down and side to side without pain.  I can put normal pressure on my face without pain.  I have hope for a pain-free future!
I came to see Dr. Raley after he visited my work place to help promote our wellness program.  I was experiencing lower back pains with pain radiating down both of my legs.  He informed me that even though I was not currently having pain in my neck that some of the issues were originating there.
After only a few visits with Dr. Raley I could tell a remarkable difference.  He adjusted my neck as well as my lower back.
I was very impressed with Dr. Raley's desire to treat the root of my problems—not just the symptoms.  He is very informative at every step of the process and I feel he really cares if I improve or not.
It has been wonderful to experience everyday life without constant pain.
Before I started coming to Dr. Raley my neck and shoulder and lower back pain hurt me so bad until I couldn't turn my head without having a headache.  I couldn't raise my arm up over my head without a very sharp pain in my neck and shoulders.  I also couldn't bend down to tie my shoes without shedding tears.  It hurt so badly.
Now I can bend down and put my shoes on and I can raise my hand above my head without my neck and shoulder hurting.
I found out that my pain in my back was coming from my neck.  My neck was off set.
Since I have been coming for my treatments I do not have any more headaches and my shoulders do not hurt.
I have suffered with lower back stiffness for more than 25 years, all of which came from an injury I received while working on my house as a young man.
The initial diagnosis was a herniated and bulging disc.  Over the last 20 years I have had 2 epidurals.  The first, at age 35, worked well.  However, I received another at age 54, which has done little to relieve my stiffness.  Along with the stiffness, I have suffered a good bit of pain.
Usually, recovery after physical activity may take 7-8 days.  Now, after my chiropractic care, recovery only takes a day or so.
After 25 years, I can enjoy a game of golf or a morning in the tree stand without fearing the aftermath of stiffness and pain.
I have had problems with my back and hips for at least 25-30 years.  At that time I got only aspirin or some kind of pain pills when it got really bad.  That lasted for a while, but I never felt good.
I had many tests, MRIs, and X-Rays over the years.  Finally 10-12 years ago I started getting shots in my lower back (epidurals).  That lasted sometimes a year or two.  When that did not help any more, I talked to my family about seeing Dr. Jon to see if that would help me.
After the second treatment I had only a little pain left.  The severe pain, that was in my legs, got better after a few treatments.
Now I have had about 4-5 treatments and am able to get out of a chair which before I had to hold onto my legs to get up.  Of course, now it's easy to get up.
I, and many people, have done a lot of praying.  I believe that was also helpful.  I believe I am going to be fine without any other doctors or shots.  Thank you Three Notch Chiropractic.
When I started coming to Three Notch Chiropractic I had an annoying pain running down my left leg, originating from herniated disc in my lower back. I had been seeing a different doctor, but I was receiving little to no results. My pain had gotten to the point that I could barely walk long distances without stopping to sit or lean on something. I was having sleepless nights due to pain. There isn't any medication I can take due to needing to be fully alert for the job that I do. Being a very active and physical person I had started thinking of and looking into have back surgery. I talked to a co-worker that has back problems and he had surgery and after the healing was over his back was never the same. He told me about Three Notch Chiropractic. He told me that he started going there and that he could really tell the difference after only a few meetings. He informed me that I should go try it out before going under the knife.
Upon my first visit with Dr. Raley, he explained and showed me how the nerves and vertebrae work together and that about 60% of people that have back problems don't understand that where the pain is may not be where the problem is.
I have had several visits with Dr. Raley now and I feel 100% better than I sis before I saw him. I am back to playing ball, riding bikes, and playing with my kids! I no longer have that annoying pain running down my leg and I love the flexibility that I have gotten back in my legs and low back. It has not taken long for me to see results. It has been a great experience, to be able to learn and understand what was going on with my body. Now, I look forward to my treatments because I know that I am in good hands.
My mother, Nola, is 86 years young. She has had lower back problems most of her adult life. She has had numerous doctors give her temporary help- to include shots in spine, medications, and adjustments. We know she will always have some back (upper and lower) pain. However, when she heard about Dr. Raley, she was more than willing to see him.
Even before her first adjustment, she liked his concern and willingness to try and help relieve some of her pain. I have been wither her for 6 months now and have personally seen the improvements Dr. Raley and his staff have made with her.
Prior to the treatments, she had to be rubbed with some form of pain cream. Since her treatments have begun, I have not rubbed her back or neck with any kind of ointment. I use the ice packs as Dr. Raley advises and the pain either goes away or lessens considerably.
Dr. Raley and Tammy are most defiantly instruments with Gods guidance to help patient s in the area. The treatments he gives my mother has given her less pain than she has had in many years. Both she and I have told several individuals of his work and highly recommend Dr. Jon Raley and Tammy for any chiropractic work.!
God bless you as you both continues His work in Andalusia!
Before coming to Three Notch Chiropractic, my lower back had been giving me trouble for years and the pain had seemed to gradually increase over time.
During the summer of '09, my back completely went out, and I was immobile for a few days.  Also, I had dealt with constant shoulder and neck pain that generally resulted in daily headaches that would occasionally erupt into migraines.  I had been given muscle relaxers and anti-inflammatories from physicians for my back, and I had also been given Topamax for my migraines.  On average, I was taking anywhere from 3-6 Extra Strength Tylenol everyday and mixing Advil in sometimes.
I came to Three Notch Chiropractic looking for relief from my back pain.  Since my treatment, my neck and shoulders very rarely bother me anymore.  My lower back has greatly improved along with my mobility, especially pain-free standing, sitting, and bending.  I feel better and don't have headaches much at all anymore.
I rarely take Tylenol or Advil anymore and I will never take Topamax again.  Also, I haven't had to use an anti-inflammatory or muscle relaxer in months.
The change in my neck and lower back has given me back a lot of my mobility and caused my overall health to increase.  Thanks to Three Notch Chiropractic, I feel more like me again.
When I first started seeing Dr. Raley I was very leery about seeing a chiropractor since I had worked for a back doctor. The doctor I worked for was always against chiropractors and that was ingrained in my head as well. But when I had injured my back my friend had referred me to Dr. Raley. I injured my back by sneezing, crazy I know, but it was the most painful thing ever. I couldn't even bend over to tie my own shoes. After being in pain for a while I finally gave in to seeing a chiropractor.
After doing all the exams we found that my back was starting to straighten rather than having a natural curve, a bone was out of place in my neck, and there were signs of degenerative disc disease. We decided to work out a care plan and got to work. After the first adjustment I could feel a total difference. It felt so much more comfortable to stand and move. I've finished the first part of my 3 part care plan and have had days at a time with no pain and can finally bend over to tie my shoes. I also noticed that headaches I had thought were from allergies are all gone as well. Not one headache since the first adjustment.
At first I was worried about my dreams of being in the air force because of the pain in my back, but now I'm just anxious to get through because Dr. Raley has helped me out so much already and I no longer fear for my dream. Thank you so much Dr. Raley!
When I first came to Dr. Raley I had been going to another chiropractor for approximately 2 years. I had persistent pain in my upper back. The pain would be mainly between my shoulder blades. It would hurt mainly in the mornings. I would have to take a trip to the chiropractor every 4-6 weeks. I decided to try Dr. Raley because the last time I went to the other doctor and he adjusted me, it hurt really bad for several hours afterwards.
On my first visit with Dr. Raley he took several X-rays and did a thorough exam I expected to be twisted and popped like at my last chiropractor. Instead he only made one adjustment in my upper neck. I felt instant relief from the back pain. I slept better that night than I had in months. The next morning I didn't hurt in my back at all.
As I have been coming to Dr. Raley, I have noticed other improvements also. My sinuses have stayed clogged up for most of my life. Since I have had my upper neck adjusted I can breathe better. What I assumed was allergies suddenly went away. Stiffness in my lower back has also almost gone away.
I have been very pleased with Dr. Raley's professionalism and knowledge. I have been very happy with Dr. Raley and highly recommend him to anyone with health problems of any kind.
I had gone to Dr. Jon for treatment about 2 years ago with acute pain in my lower back and a very tight and painful left thigh.  I also had a spot about 2" in diameter on the front of my thigh that itched with no amount of scratching that satisfied it.  Dr. Jon unlocked my neck and the relief started immediately.  After some follow-up treatments, I felt like a new man.  There was a span of about 4 months that I received no treatment. Then, I started having some very different problems that seemed so bizarre that I never even considered that it could be my neck again.  At first, my right arm started to get weak and could not make a strong fist.  Then, it was my right leg making it hard to walk.  After that, my left leg started stinging, tingling and prickling, then the left hand, then on to my right hand, then the right foot.  The sensations were back and forth and sometimes all together.
I made an appointment with a neurologist.  He did a nerve conduction test, a muscle test, blood work to check for muscle disease, a CAT scan of the brain and neck to check for a tumor.  My next appointment was for the following Wednesday to find out the results of all the tests.  Over the weekend I started wondering if any of this could possibly have anything to do with my neck.  I  made an appointment to see Dr. Jon on Tuesday, the day before my neurologist appointment.  Sure enough, Dr. Jon said that my neck was out.  He unlocked it and the relief was immediate.  My whole body was in such stress.  The relief was wonderful.  I told Dr. Jon he is the best.  And he is.  His techniques really work.
The next day I kept my appointment with the neurologist just to see what he would say.  He asked how I was feeling.  I told him that I was doing much better.  He wanted to know why I thought I was better.  I said, "Well, I went to my chiropractor yesterday and he unlocked my neck."  There was a funny look on his face.  He said he didn't know anything about that and that something had seemed to be wrong with me but that all the tests came out ok.
So here I was 3 trips out of town to see the neurologist, copays to the doctor, gasoline and time off work, $100 copay to the hospital for the CAT scan, wasted time and money.  I should have gone to see Dr. Jon in the beginning.
For more than ten years I had widespread body pain.  I hurt everywhere…jaws, hands, feet, shoulders, back, neck, and hips.  I couldn't rest at night.  I would toss and turn.  I usually woke up in tears.  It would hurt to walk across the room and even taking a shower was painful.
I first noticed the pain in my chest.  I went to the doctor and I was sent to a cardiologist.  There was nothing wrong with my heart.  A friend suggested that I may have fibromyalgia.  I went to a rheumatologist and my friend was right.  The lab tests were usually normal with the exception of the CRP.  The doctor gave me medicines that did help for a while but the symptoms and pain returned.  The side effects from the medicines were terrible.  I had resorted to hot baths, relaxers, pain medicines and rest.  It is really bad when more than one kind of pain medicine has to be taken to get relief from pain.  I did it and was still in pain.  My body would be sore.
A family member suggested seeing a chiropractor and a coworker suggested Three Notch Chiropractic.  My first adjustments…WOW!!!  God had sent me a miracle! I had not felt like that in several years.
I HAVE NO PAIN!  I haven't had any pain medicines since coming to Three Notch Chiropractic.  My family and I are extremely happy about the care I have received.  I tell everyone about my recovery.  I thank God every day for my healing.  I am very grateful to Dr. Raley and Three Notch Chiropractic.
I've been disabled for seventeen years from a whiplash accident, and I've been through a medical nightmare.  I was diagnosed with Reflex Sympathetic Dystrophy, Thoracic Outlet, and Fibromyalgia.  I had many nerve conduction tests done and tests to rule out other types of diseases like MS, Lupus, and ALS.  So many medications didn't work.  The doctors performed a Dorsal Sympathectomy.  They removed part of my nervous central system.  This was a life altering surgery.  They don't tell you the negative impact it has on your life.  The new Neuro Surgeon in Idaho I was referred to for a Spinal Stimulator said the Spinal Stimulator wouldn't work.  He referred me to Barrows Neurological in Phoenix, AZ to have a Deep Brain Stimulator surgery.  They sent me to Redlands, CA to a Pain Management Movement Disorders, Parkinson Disease Specialist.  When I talked to him, he canceled the Deep Brain Thalamic Surgery.  He put me on some medicine.  He said that I would probably get ten years of relief.  I went home.  Within three days no surgery.  I was ready to fly home to Idaho.  I went for a First Rib Dissection in 2009 for the Thoracic Outlet in Daytona fifteen years later.
Sept 2011 I started coming to Dr. Raley and having cervical adjustments.  In that time the swelling in my shoulder and back is completely gone.  I do not feel that the left side of my body is split from the right.  I feel whole again.  I haven't had any more occipital nerve blocks for headaches or pain.  I also haven't had any more trigger point injections in my back and neck.  The left side face pain and numbness, hearing loss, and vision problems are gone.  I don't take medication for Fibromyalgia anymore.  The symptoms of Fibromyalgia also have left.  The numbness in my arms and hands when I sleep has also subsided.  I was having pain and swelling in my legs that affected my circulation and kept me awake taking late night hot baths to stop the pain.  This pain, too, has stopped.  I have lost weight.  I have had so many improvements in nine weeks I can't wait for a whole year of adjustments.  He has opened up the information highway to my body so it will communicate the correct information so it can heal.
After nineteen years of pain and suffering, today I can say, I am well.
In 1993, I suffered a severe neck injury which caused spinal cord stenosis and the onset of Fibromyalgia and migraines.  It took three years of endless searching to get a correct diagnosis.  In 1996, I underwent a very invasive surgery called a cervical laminectomy.  The surgery released the pressure on my spinal cord but I was still in constant pain, spending many days in bed unable to function.
Ten years ago I had a bad fall and have suffered with lower back pain since then.  Over the years I began to develop degenerative disc disease.   In June 2012 I sought the help of an Orthopedic Doctor.  Surgery was an option, but first I was advised to try epidurals.  My theory was that when the injections wore off the pain would be back and I would be no better.  I spent many days in unbearable pain.
A friend encouraged me to visit Dr. Raley at Three Notch Chiropractic but I put it off.  When the pain from all three conditions had literally overtaken my life I started to see Dr. Raley.  Upon viewing my X-rays Dr. Raley showed me that my atlas vertebra was in a forward position.  Dr. Raley then began slowly and gently moving the atlas back into place and the pain in my neck diminished.  He also started slowly moving the degenerated disc off of the nerve in my lower lumbar area as well as treatment for my migraines.
Today as of February 5th, 2013 I can say that my life has been given back to me.  I have no more pain in my neck or back and the migraines are only occasional.  I also have no more chronic fatigue and pain all over my body from Fibromyalgia.  My life seems surreal.  I praise my Lord for using Dr. Raley as a tool in His hands to bring about my healing.  I am now a very big advocate for upper cervical treatment and will tell my story to anyone who will listen as I know the power of upper cervical works.  Life is good and I am free.
When I first came to see Dr. Jon Raley I was having numbness in my right thumb that would move to my pointer and middle fingers. On my first visit Dr. Raley examined me and took x-rays of my neck. After reviewing the x-rays of my neck he found that my top bone was out of alignment. He also found, by looking at my x-rays and seeing the "spurs", that it had been out for almost 20 years!
After about 3 visits my hand stopped hurting completely. Then my right foot started bothering me. I kept seeing Dr. Raley at his office. All along my top bone kept "popping" back out of place. The pain shifted into the arch of my foot then back down into my toes again. I was giving up hope.
I came back to see Dr. Raley again, my top bone was out of place again. He adjusted me and I didn't get to see him again for about 3 weeks and finally it all fell into place and quit hurting.
I am so thankful for Dr. Raley. The pain I was experiencing was causing me to have trouble at work and during my recreational activities. I can now go about life as usual.
Thanks again Dr. Raley,
I came to see Dr. Raley after I was in a motor vehicle accident.  I was taken to the hospital by ambulance.  At that point the pain was a 5 out 10 (where 10 was the worst imaginable pain).  The very next day the pain increased to a 9.5 (I believe 10 pain causes you to go into shock).  It was the worst pain I have ever had in my life.  I ended up visiting the emergency room three times in a 2-week period.  They did test after test (CT scan etc.) and found nothing.
When I first came to see Dr. Raley, I felt as if I had a bobble head with severe neck, shoulder and arm pain with a severe "Mohawk" type of headache.  Dr. Raley took x-rays and found that my head was laying on my brainstem and that I have degenerative disc disease.
On my first visit to him I could not stop crying.  Finally, after going to see Dr. Raley twice a week, being put to bed rest and doing exactly what he said, it started to help.  The pain started to lessen little by little.
I used to get sore for a couple of days after he adjusts me.  Now, I am pretty much pain free. Now I am up to three weeks between visits and living a happy, normal life once again.  Because of the degenerative disc disease I probably need follow up care.
Dr. Raley is the most thorough chiropractor I have ever been to. Thank you Dr. Raley and staff for everything.
For about two years now I have suffered with severe headaches on a daily basis. The headaches were so bad they brought on stress and fatigue. I no longer wanted to go to work or school because it was so difficult to concentrate with such a bad headache.
I finally decided to go to the chiropractor about my headaches. Dr. Raley discovered that I had a bone out of place in my neck and luckily he has been able to help me.
After a few short weeks of Dr. Raley's help I have felt a tremendous change! I no longer have headaches or pains in my neck. It is truly amazing to me the difference that has taken place.
In February I began getting severe headaches and it would always begin with dizziness and numbness.
The first weekend in March I had come home from drama practice and had a headache so I went to lay down.  About 6 pm my mom woke me up.  I went and sat in the living room and got up of the couch.
I got dizzy to the point I was stumbling around, but I was talking to my mom.  Well, I passed out and began trembling on the left side of my body.  I didn't go to the doctor that Tuesday, I was sitting in my History class and my teacher sent me to the nurse because I got dizzy.  The nurse called my mom and I went to the doctor.
He told me I was having what he thought were seizures.  He sent me to the hospital the next day for tests:  CT scans, MRI's, blood work, EEG, and a few others.  The following day I got my eyes examined.  My eyes were fine.  The doctor gave me a prescription of Topamax.  The headaches became less severe but just as frequent.
A friend of mine gave me her success story and I came over here.  I got x-rays taken and it showed that my C1 was out of place.  After four sessions I decided to go off the medications.  I have had no more headaches since coming off the medication, and the numbness is almost completely gone.  The dizziness is less frequent and less severe.
Ever since I was a small child, I have suffered with some sort of migraine.  As I get older, the pain and symptoms get worse.  I have seen every type of doctor and each one continually tells me, there is nothing they can do.  Prescriptions of every sort are prescribed, however, it just leaves me feeling drugged.
In December 2009 I was hospitalized due to a severe migraine that never diminished.  It was affecting every aspect of my life, including my day-to-day activities.  After numerous tests and 10 days in the hospital, they sent me home to "Deal with it" because all the test results kept returning normal or negative.  The doctors kept telling me it was "all in my head" and that I needed to see a psychiatrist.
I decided to try Three Notch Chiropractic.  WOW! The difference after one adjustment!  Dr. Raley discovered the C-1 vertebrae was not aligned properly which was affecting the brainstem and keeping me from functioning normally.
I have been coming for several months showing amazing improvements.  My pain levels, which were off the chart, are now at tolerable levels.  I have a long way to go, but without the assistance of Dr. Raley, I would be on so many more medications.
"E."(Youth) was having headaches, neck pain, bad acid reflux in his stomach, and his throat always hurt because of the acid. We, his parents, did not realize that these symptoms were connected. We took him to the pediatrician, the ENT, and the children's clinic in Pensacola. They all treated his symptoms and medicated him but did not cure him. He missed A LOT of school. He was in the 3RD grade.
When my husband went to Dr. Raley's Patient Orientation Class (when he became one of Dr. Raley's patients) he learned that the nervous system affects the entire body including stomach acid. So, we brought Ethan to see Dr. Raley. Dr. Raley interviewed, examined, and X-rayed "E.". He found out "E."'s neck was out of whack, which had affected his stomach acid and headaches.
After weeks of treatment "E."'s symptoms completely went away. We are so grateful that Ethan's problem has been fixed and his neck is in alignment now. He no longer had to be on any medication. Thank you Lord, for guiding us to Dr. Raley! God bless you and your staff Dr. Raley!
The TNC Group has been great. I have had such a positive experience working with the people here.
When I first came in for treatment, I was experiencing low back pain and having headaches almost daily. I am a teachers and I was struggling with standing for periods at a time.
Through a well thought out plan of treatment, and consistent visits, I am now feeling the benefits.
I am able to stand for longer periods of time with no pain and I have had only one major headache since treatment began!
I feel well on my way to pain-free days!
Thanks TNC!
When I came to see Dr. Raley, I had a lot of pain in my neck, back, arms and legs, which caused severe headaches.  After Dr. Raley X-rayed me and showed me the outcome of my problem, I can honestly say I was shocked and a little scared.  But after talking with Dr. Raley, he brought peace to my mind.
After my first treatment, I felt a tremendous difference.  There was a little pain the next day, but it soon subsided.  After the second treatment I had no more headaches and the pain in my legs and arms quit.
I have only been 4 times and I can already see a change in my work, recreation and even my family can see my pain level is down.
I just want to thank Dr. Raley for this success he has done for me so far.  And the honestly he has shown me.  It has been a long time since I have felt this good and I know with my other sessions I will just get better!
Thanks for the hospitality I'm shown when I visit.
May God bless keep blessing you as he already has.
I suffered with headaches and neck pain for most of my life.  Sometimes the pain was bearable and sometimes unbearable.  I have experienced headaches so severe that I would see flashing lights, black spots, and have (at times) not remembered trips to the doctor.
Through the years, doctors have diagnosed me with military neck, degenerative joint disease and Chari Malformations Type 1.  The only thing that ever helped was to take Tylenol or Ibuprofen everyday and seek chiropractic care for adjustments.  I was sent to a neurosurgeon who gave me two options: to have surgery to remove part of the brain in the spinal canal or part of the skull to give the brain more room but stated it was no guarantee to reduce the migraines.  I opted to stay with chiropractic care.
I was introduced to Three Notch Chiropractic through a fellow employee.  I initially had my son treated for back pain and the treatment was successful also.  Dr. Raley diagnosed me as having the C1 vertebrae misaligned causing pressure on the spinal cord thus causing more problems.  I began treatment with Dr. Raley and attended a short seminar to become even more educated on healthy living.  Honestly, I had given up on ever being released from the pain of headaches but through the treatment, I have been headache free for some time now and I even have a small curve to my neck where there wasn't one before treatment.  The changes that have been brought to my life are amazing! I've seen doctors before but no answers or relief.  Through the treatment at Three Notch Chiropractic I have been able to sleep better, perform better at work with more clarity than before and I have even started exercising again.  I am more active with my family because of being pain free and I smile more.
First, I am thankful to God for blessing me and allowing me to be headache free today!  Secondly, I am thankful to Dr. Raley and staff for answering the call of compassion for those in need of help and answers!
I had come to Dr. Raley with migraines that were occurring very often. Bad ones. Also with neck pain that made it where I couldn't turn my neck to the right. It made my everyday life extremely hard.
A friend of mine at church told me of her same problems and said that Dr. Raley had really helped her.
Well Dr. Raley took a lot of time and took x-rays and found that I have a bone out of place in the atlas of my neck ( that is the part that holds the skull in place). Also, my bones are too deteriorated to hold it in place.
I had gone to my regular family doctor and he had told me I had arthritis in my neck an dput me on some strong medicine. To back up a little on my story, I just didn't want to be on painkillers the rest of my life.
Dr. Raley adjusted my bone in my neck and it felt so much better. Now, he has had to adjust it 3 or  4 times. It ahs made my migraines less frequent. One instance I had a severe migraine when I came in and Dr. Raley adjusted my bone and the migraine disappeared before I was at Walmart. He will continue to work on keeping the bone in place and trying to get my ligament and muscles to get stronger to support my neck bones.
Since I have been coming to Dr. Raley I can enjoy my life again. I can enjoy activities I couldn't before. Praise God for Three Notch Chiropractic. I was a skeptical person about chiropractors before I came here.
I was having all kinds of issues, and I was getting a little scared.  My thoughts were, "What in the world is wrong with me?  This has to be serious."  I got dizzy spells and my head was hurting on top of heart palpitations and temple, throat, neck, and shoulder tightness.  I was even waking up in the middle of the night with my air passage cut off.
With all of this going on, all I knew to do was go to my general practitioner.  After I saw my general practitioner, to no avail, it went on for months and months.  The general practitioner ran the works on me and after all the tests coming back clear, they stopped taking me serious and had little to say.
One day my father mentioned that he heard so many good things about Dr. Raley and that I would be surprised how he could help me.  So the next day I called and made an appointment.  I honestly did not expect this to help at all but I was out of options.
To my surprise, after my second appointment everything started to change.  I woke up the next day and 90% of my symptoms had gone away from some major adjustments made on my neck.  Somehow, Doc managed to unlock some of my neck bones without hurting me at all.  Dr. Raley is one of the most kind and understanding doctors I've ever met.  He is a master of chiropractic and he has shown me and my father how far chiropractic can take you with the right doctor.  They don't get any better than this in my opinion.
When I was 14 yrs old I was in a rather severe auto accident and another when I was 16. This is when I think my troubles began. As time went on, I begun having minor headaches and issues with back pain that I just attributed to the hard life I had lived skateboarding and doing the crazy things that a boy does. I am now 36 years old and have had little to no pain over the past 3 months. This is all due to the treatment I have received from Dr. John Raley with this office at Three Notch Chiropractic (TNC).
The headaches that I began to have so many years ago had turned into migraines. These painful headaches would have me very irritable and sometimes hateful to my friends and family. My quality of life had dropped due to the pain I had in my back and the numbness that would tend to radiate down my legs and to my fingers. I would be awaken at night with muscle spasms in my neck and back. I could continue on with the many aches and pains that ensued, however, I will not bore you with the rant of my pains.
I will tell you this. If I had to describe TNC in one word it would be…
"RELIEF"
Albeit, there are many other words to describe TNC. Words like; Kind, Caring, Genuine, Concerned, Honest, Helpful, Forgiving, Compassionate, Fun, just to name a few. Relief is the one that sets this office of professionals apart. This is what they offered me. When I took them up on their offer, they followed through, they gave me the Relief I needed.
So, to sum up what I've been trying to get across. The treatment that TNC has given me has allowed me to be the person I have wanted to be for a long time. The staff has given me my life back. I am more active now than I have been in many years. I sleep at night. All night. I enjoy time with my wife and my children and my friends. I now have the ability to do the things it takes to make myself healthier so I will be around for them many years to come.
I thank Dr. J. Raley and his staff for everything you have done to get me to this point and the instruction you have given to keep me moving in the right direction. May you and your office be richly blessed by God as you have richly blessed me.
What first brought me to see Dr. Raley was a tingling and numbing sensation in my two little fingers on my left hand.  I have suffered a couple of old injuries to my neck and it has caused me problems for many years,  Little did I know when I first came to see Dr. Raley just how many problems my neck was actually causing me.
I have been suffering from migraine headaches with flashing lights to the point that I could not see things clearly.  I have been to my family doctor, my eye doctor, and even another chiropractor seeking relief.
I have been suffering from sinusitis, which I have seen an ENT for and have had sinus surgery for.  I have been going to the doctor about every 2-3 months for antibiotics, steroid shots, and all different kinds of nose sprays.
I have had surgery on my right eye.  I had tissue push through the eye wall of my eye and was hanging down into my eyeball.  Even after having it repaired I still felt pressure all the time.  At times my head felt dizzy and I had a hard time concentrating or thinking clearly.
By the end of each day I would be so tired and grouchy from feeling bad that I didn't want to do anything or be involved in anything.  I now think that I was suffering from depression because I felt so bad all the time.  I had gained a quite a lot of weight because I ate to cope with the stress I was feeling.
But today I feel like a new person!  Since I have been in treatment with Dr. Raley at TNC my migraines have almost completely gone away.  I have not been to my doctor with my sinuses or have not had to take any sinus medication.  The pressure in my right eye is no longer being felt all the time, my head is clear and I feel a new desire to be involved in my life again.
Because of watching my caffeine intake for my office visits, I have stopped drinking soft drinks and have started to lose weight and it feels great.  One think I have learned through this treatment is how to tell when I need help.  I will always have these old injuries, but I have learned what my limits are, and how to get help if I go past my limits.
I will never be able to thank Dr. Raley and TNC enough for my new life.
Before coming to Three Notch Chiropractic, I was having an everyday, or every other day, pain in either one my knees and sometimes in both knees at the same time. I have had knee pain for 19 years and this pain started when I as 2 years old.  My parents would notice my crying and rubbing or holding my knees when I was young because I could not tell them what I was experiencing.  Finally when I was able to communicate, I could tell my parents and doctors what kind of pain I was having and where.  My knee pain would consist of a sharp and aching feeling and would last for hours at length.  This pain would be at a 10 (on a 0 to 10 scale with 10 being the worst) and would occur at least twice a week.  When my knees are not hurting extremely bad, I have a constant, annoying ache in both my knees every day.
Throughout my childhood and recent years, I have visited a number of doctors, pediatricians and orthopedics.  I have had blood tests and physical tests done to diagnose my knee problems.  By having those tests and visits to specialists, the doctors have prescribed me oral and topical medications that would treat the inflammation.  Also, I was given knee braces that would relieve the pressure my kneecaps.  When I was young, the doctors and pediatricians would say that I had "growing pains" and that I would grow out of them.  I also was diagnosed with blisters underneath my kneecaps from sports when I was in high school.  The tests may have been right, but it still did not stop the pain.
I was introduced to Three Notch Chiropractic in February 2012 where my journey of knocking-out this knee pain began.   After x-rays showed that I did have some misalignment in my cervical vertebrae, Dr. Raley put all of his focus in that area.  After the first week of coming to TNC, I was able to notice a decrease in the intensity of my pain. Four weeks of coming to TNC passed, and I was not experience any pain but maybe once every week and that pain intensity was still very low.  I am very happy and pleased with my outcome because my knee pain has improved greatly!  Since coming to TNC, I am able to get a full nights rest without waking up in pain, and I am able to participate in recreational activities without having pain.  My family and friends are happy that this has been a great improvement for me.  I am blessed that Dr. Raley has been able to help me with this situation!
I was experiencing severe numbness in my legs; primarily from my knees to my feet.  I had tried heat therapy and an ibuprofen regiment.  I had discussed the problem with my MD and we had concluded I was experiencing circulatory problems.
I had heard about Dr. Raley from my wife who attended a seminar at her workplace.  She actually thought he could possibly help my problem.  She heard Dr. Raley explain about how the neck, being displaced, could cause problems anywhere from the neck down.  He explained it could be from previous injury several years back.  I played football in high school, so this all made sense.  My wife made my appointment without even discussing it with me because she knew I needed to try something.
After my first visit, in which several x-ray and thermal scans were performed, Dr. Raley, in fact, saw an issue in my neck at the base of the skull.  He successfully unlocked that area and, after a day or so, I notice the pain and the numbness in my legs was completely gone.
I can now stand and stoop down virtually pain free.  I have also noticed some mild back pain I had is much better.  This has truly been a life-changing experience.
I first noticed a problem in June or July 2010.  If I stood still for very long the front of my thighs would become numb.  Also, I would experience pain in both legs.  The pain seemed to extend from my buttocks.  It was painful to sit, lay down, and an hour trip was almost unbearable.
I eventually saw an M.D. and was tentatively diagnosed with a sciatic nerve problem.  After seeing another chiropractor and another M.D., I came to TNC.  After an evaluation, Dr. Raley began a series of treatments that brought substantial relief in just a matter of weeks.  Dr. Raley informed me of the source of my problem, what he would do to help me, and set up a series of appointments.
I have been able to stand without numbness, sit, and lay down with very little discomfort and I am now better able to travel without pain.  I believe that in a matter of a few more visits, my problems will have been relieved.
After many years of aching legs, back, and shoulder problems, and many trips to the doctor, my wife tried to convince me to try a chiropractor, and of course you know my first response was "I am not going to a chiropractor!"  But I did.
My first visit with Dr. Raley, I told him all I wanted was to feel like a fifty-one year old.  After a couple of visits I could feel the difference.  My legs no longer ache and my lower back and shoulder feel great, even at night my mind is more relaxed so I rest better.
I'm proof that sometimes it pays to listen to your wife.  I cannot believe the way I feel now compared to before I came to see Dr. Raley.
This is one time that I'm glad that I listened to my wife.
Before I started coming to Three Notch Chiropractic, I was a total mess.  I had tingling and numbness in my legs, stinging sensations in my legs, shoulder pain, neck pain, and neck fatigue.  The worst area was my neck.  I had such weakness and fatigue in my neck that I felt like I just couldn't hold my head up any longer.  I also developed carpal tunnel problems in my right hand (and I am right-handed!)  I had reached the point that it was difficult to enjoy doing things with my grandchildren, working in my flower beds, or just being able to do things outside with my husband and family that I had always been able to do.  I enjoy the outdoors, but my enjoyment of this was practically eliminated due to the pain and discomfort.
I had been seeing other chiropractors for several years, getting frequent "adjustments".  These would help the discomfort for a short time, but it would always come back.  I have had MRI's, nerve conduction studies, X-rays (you name it!) and diagnosed with degenerative disc disease and arthritis in my back.
In researching therapies on the internet, I came across Three Notch Chiropractic so I called the office.  His assistant was very encouraging about the different type of therapy used by Dr. Raley so I made an appointment.  My first visit was very detailed and involved. I was totally blown away at how thorough Dr. Raley's evaluation of my issues was.  A care plan was set up stressing that his goal is to get me to the point that I don't need frequent adjustments, and that I can get back to living my life..
I have been under treatment for 4 months and I am proud to say I am getting my life back!  Dr. Raley discovered that my main issue was in my upper neck.  After a few adjustments, I no longer had the constant discomfort that was there before.  The fatigue is gone.  I don't have the constant low back, hip, leg, shoulder, or neck pain anymore.  My carpal tunnel symptoms are also practically gone.  I can now enjoy my grandchildren without the pain that I use to experience. I can actually work and enjoy my flower beds.  I can spend time doing things outdoors again, with my husband and family, without paying for it with pain in my legs, hips, back, shoulders, neck and hand.
I am so grateful to have found such a compassionate and knowledgeable friend as Dr. Raley.  I am thankful for his patience and his help.  I just wish I had found his practice years ago.  His assistants are always so friendly, helpful and comforting.  Yes, I am finally getting my life back, and I am so appreciative of the expertise of Three Notch Chiropractic.
Sine I have started treatment with Dr. Raley, I have experienced a great change in my physical health and strength. Not only do I not hurt with chronic neck pain anymore, but I have a great deal more energy than ever before. I have more patience with my family also., because of my overall feeling of well-being. Dr. Jon Raley and his assistant Tammy Harper are always kind and friendly. They will do whatever they can to accommodate my schedule.
I will continue to use chiropractic medicine for the rest of my life, because it will change your life for the better and has changed mine. Thank you so much!
Just before Thanksgiving Day 2008, I woke up the day after scrubbing floors and could barely move. I had pulled muscles in my back. I decided that I had to see Dr. Raley.
While speaking with him on my first visit I explained that when I drive as little as 45 miles my shoulder and neck are so painful that I have to get out of the car and walk around. My hands would go numb also. I told him that the same thing happened if I am on the computer for more than 15 or 20 minutes. Dr. Raley took my x-rays and developed a treatment plan for me.
The first week of December I had to take a driving trip to Charleston, South Caroline; the first true test on my treatment.  I took my "trusty" Polar ice-pack with me just in case I needed it. To my amazement and surprise, I drove straight through Charleston stopping only for gas and never had to use my ice pack. No pain in my neck, shoulders, or hands! What a wonderful breakthrough! I can sit at my computer as long as I want now.
A far as my back muscles are concerned, I haven't had any problem either. Dr. Raley told me we needed to make my muscles work again. They've been lazy, and that the muscles move bones. Well, I'm thrilled that we've been able to train my muscles to do their job.
Thank you Dr. Raley!
I have lived with pain in my neck and shoulder area for many years. I have tried treatment with my family doctor such as exercise and pain medications, nothing ever worked.
For so long I felt that I would just have to live with it. I had to give up everyday activities such as, gardening, painting, and others.
When I met with Dr. Raley we were not sure if he could treat me. But, after x-rays and discussing the issues at hand, we started the procedures.
I cannot express my gratitude enough. I can actually turn my head and my headaches are mostly gone. He has helped me so much. I am slowly regaining strength back in my left arm. Before I could not pick up anything that was remotely heavy.
I know I still have a way to go, but I believe that I will eventually reach my goal. I truly believe in Dr. Raley and would recommend him for anyone who is suffering from any physical discomfort.
I want to thank you, Dr. Raley, and you Ms. Tammy, for making my comfortable every time I am there for treatment. You guys are great!
I began using Dr. Raley four months ago and the results are amazing.
I came to Dr. Raley with a neck issue in which the pain would not go away.  He explained the process of the spine and the connection between the neck and the spine.  The treatment was one of which I was unaccustomed, since I was previously under different chiropractic care.  I was pleasantly surprised and my pain subsided with pain management under Dr. Raley.  My back and hip would pop and crack every time I stood from sitting posing.  The reposition of my neck has completely eliminated this issue.  I suffered from a condition called Tinnitus (ringing in the ears), which has disappeared during the treatment period.
I have full confidence in his methods and abilities.  The staff is friendly and helpful.  While in their office, you feel you are a person in need of relief from a pain you cannot see, only feel.  You are not treated as an eight-hour duty.
The explanation to any questions I have is answered in full and where you can understand them.  You don't leave questioning yourself, "what does that mean."  I have recommended him to co-workers and friends, expressing complete satisfaction under his care.
I have been in pain for 10 years. I had a car wreck in 2000, and broke my leg, neck, ribs, and had a brain injury. Doctors said I probably would never walk again. I have had leg and neck surgery since my wreck.
After I came to Dr. Raley, I have had a great improvement. I used to have burning and stinging in my neck, legs, and arms before. But now I am nearly pain-free!
I can play with my kids and wife again and go to school activities that I used to miss because it hurt too badly to sit or stand at events they would have.
I am very thankful for what Dr. Raley has done for me.
The neck pain and hip pain were very intense, making movement difficult.  My neck did not allow full view when driving, and the hip pain caused constant sensations of icy feelings in my right leg and toes.  Four of my toes would curve upward when sitting, standing or during sleep.
Previous medical testing revealed a particular spine disorder that could be eased with cortisone shots four times per year.  This test was through the feet where electric shocks would determine the spine area affected.  I opted not to do that and was given Indocin and Naprosyn to relieve pain.
A full diagnosis at TNC revealed trouble areas in my neck and hip that was causing the pain, inability to move comfortably.  Performing daily tasks like housework were slow and difficult, and usually caused immense pain up the neck into the shoulder.  After two weeks of adjustments on my neck and hip, I was actually walking better, moving around easier, and was sleeping through the night with no medication.  My thigh no longer gets icy sensations, and my toes have not curled upward at all.  This is week 3 of adjustments, and I am amazed at the mobility I have gained in three weeks.
Changes for me are tremendous, for example:  I am dressing much easier than before coming to TNC.  Before February I needed assistance with shirts and slacks.  Now I do all for myself without losing any balance or feeling in my right leg.  I can now get in and out of a bathtub by myself, in and out of the car, and am now doing light housework.  The pain in my right leg was unbearable.  Today I walk, sit, stand, and dress with no pain.  My right knee bends again and my whole life is improved.
I have learned some fantastic new living habits, which include ice packs, resting properly without 3 to 4 big pillows, water hydration and proper sitting on a good support chair.
When I was about 12 years old the school nurse told my parents I had scoliosis.  Never had much done about it with little pain until after having 2 children.  I noticed my back was hurting more and I chalked it up to having back labor with both of my children, and that I was overweight.
As the years past I started having really bad headaches.  I went to numerous doctors.  Had MRI's and head x-rays ran.  Spoke to a Neurologist.  They all told me I suffered from cluster migraines.
In 2011 I began to take Zumba at a local gym.  This was the first time I loved exercise and felt great… or so I thought.  Within 6 months I began to hurt in my right hip and leg.  Since I decorate about 5 couple's houses for Christmas every year I stopped going to Zumba during the holidays to focus all my energy on them.  The rest from Zumba did not help and I was worse and to the point I could not lay in the bed without screaming in pain.  After seeing a few doctors and had more x-rays, ended up having 2 epidural procedures.  I was told I would never be able to take Zumba again.  The doctor said that I had degenerative disc and compared me to a 80 year old man sitting next to me.  He said that my back was worse than his!  Wow!  I put off another year and dealt with the pain.  A family friend, who is a nurse, urged me to go to Three Notch Chiropractic and see what they could do for me.
I started my chiropractic care in August 2014.  They took x-rays and saw the scoliosis in the back and a curve in my neck.  Dr. Raley said my neck had been like that for some time and that may be what was causing the headaches.  He said he will never be able to fix my scoliosis and he told me that on my first appointment.  But, he could help with the pain.  I was very skeptical.  He began adjusting my neck and lower hip joints.  My appointments started out twice a week and then moved down to once a week.  My progression moved very fast.
It is now Oct 2014 and I feel great!  He is now encouraging me to try Zumba again.  Also, I recently decorated for a wedding.  I was on my feet for 2 solid days on a concrete floor.  No pain.  It is awesome!  Why did I put this off?
Two years ago I began having pain between my shoulder blades.  The pain would come and go and gradually got worse.
I went to my regular family doctor and she said that I had a sprained shoulder.  She prescribed muscle relaxers to me.  I took the muscle relaxers one time and could not take them anymore.  They made me so tired that I could not take care of my two small children.
The pain worsened as the months went on and I began to get headaches.  It was affecting my work and daily activities to where I would have to go home and rest.  But I could not sleep well and because I could not find a find a comfortable position.  Therefore, I would wake up every hour or two and find myself very tired the next day.
I decided to make an appointment with Dr. Raley to see I he could help me.  He discovered after a few x-rays that it was my neck giving me trouble.  After the second visit with him that my neck and shoulders were no longer hurting! It was the best feeling I had had in 2 years.
I WAS PAIN FREE!!! No more headaches!! I had forgotten what it was like to be able to enjoy my life!!  Meeting Dr. Raley and his kind staff was a blessing for my family and me!!  I would highly recommend Dr. Raley to anyone that is in pain or having problems with their health!  Than you Dr. Raley for helping me get my life back on track.
I came to see Dr. Raley with pain in my left shoulder and upper back area. Upon seeing the doctor he performed his assessment of my concern. He determined my problem was all related to my neck being misaligned.
He explained everything in detail about his method of treatment and to this date everything he has told me has been the exact result of his treatment. He has helped me in a tremendous way and it has been just as his treatment plan has shown.
I would recommend his treatment to anyone with any type of illness. Thanks Dr. Raley and Tammy Harper for your help in making my quality of life a lot better!
After suffering off and on for over 15 years, thank God I have gotten help for my vertigo.
I have been to neurologist, ENT's and regular physicians. They only helped by giving temporary relief. Last year my vertigo had gotten extremely worse. For about a month, I could not even stand up; day or night. I had to lie down most of the time.
My daughter suggested that I go to a chiropractor and my husband said he knew the one that I needed to see- Dr. Raley. After coming to see Dr. Raley, I have felt much better than I have in years and hardly ever have any vertigo symptoms any longer.
OFFICE HOURS
---
Monday
8:00am - 5:00pm
---
Tuesday
8:00am - 5:00pm
---
Wednesday
8:00am - 5:00pm
---
Thursday
8:00am - 5:00pm
---
Friday
By Appointment
---
Saturday
Closed